Detailed description
Explain:
Maojwei Mil-C-5015 series connectors conform to US military Mil-C-5015 standard(GJB600), with high strength Aluminum Alloy shell, Synthetic rubber insulator, threaded coupling, Alternate insert positioning, solderand crimping terminal, low cost, simple and practical design, widely used in industrial machinery and equipment, military , defense equipment, marine , automobile industry, instrument and servo motor etc. Our connectors can replace European and American similar products.
Features: (a) High quality,highwithstanding voltage, high reliability;low cost;light weight, different size;
(b)MS3106 straight plug,MS3108 angled plug,MS3102 socket,MS3101plug,MS3100 plug,MS3057cable clamp,MS25042/25043dust cap.
(c) Solder and crimping type;
(d) Good sealing performance, waterproof IP67;
(e)Corrosion resistance; hard dielectric inserts;good electrical conductivity and mechanical strength.
Shell 14S plug and socket ,we have 14S-9 2pins,14s-1 3pins,14s-7 3pins,14S-2 4pins,14S-5 5pins,14S-8 7pins,14S-6 6pins,14S-10 10pins,14S-12 12pins,14S-11 8pins,10A 15A and 25A current.

Detail Code:MS3106A14S-8S staight plug,MS3106A14S-2S staight plug,MS3106A14S-5S staight plug,MS3106A14S-6S staight plug,MS3106A14S-1S staight plug,MS3106A14S-9S staight plug,MS3106A14S-10S staight plug,MS3106A14S-12S staight plug,MS3106A14S-11S staight plug,MS3106A14S-7S staight plug;
MS3108A14S-4S angled plug,MS3108A14S-2S angled plug,MS3108A14S-5S angled plug,MS3108A14S-6S angled plug,MS3108A14S-1S angled plug,MS3108A14S-9S angled plug,MS3108A14S-10S angled plug,MS3108A14S-12S angled plug,MS3108A14S-8S angled plug,MS3108A14S-7S angled plug;
MS3102A14S-8P square socket,MS3102A14S-2P square socket,MS3102A14S-5P square socket,MS3102A14S-6P square socket,MS3102A14S-1P square socket,MS3102A14S-9P square socket,MS3102A14S-10P square socket,MS3102A14S-12P square socket,MS3102A14S-11P square socket,MS3102A14S-7P square socket,P=pin,S=socket option,welcome to choose.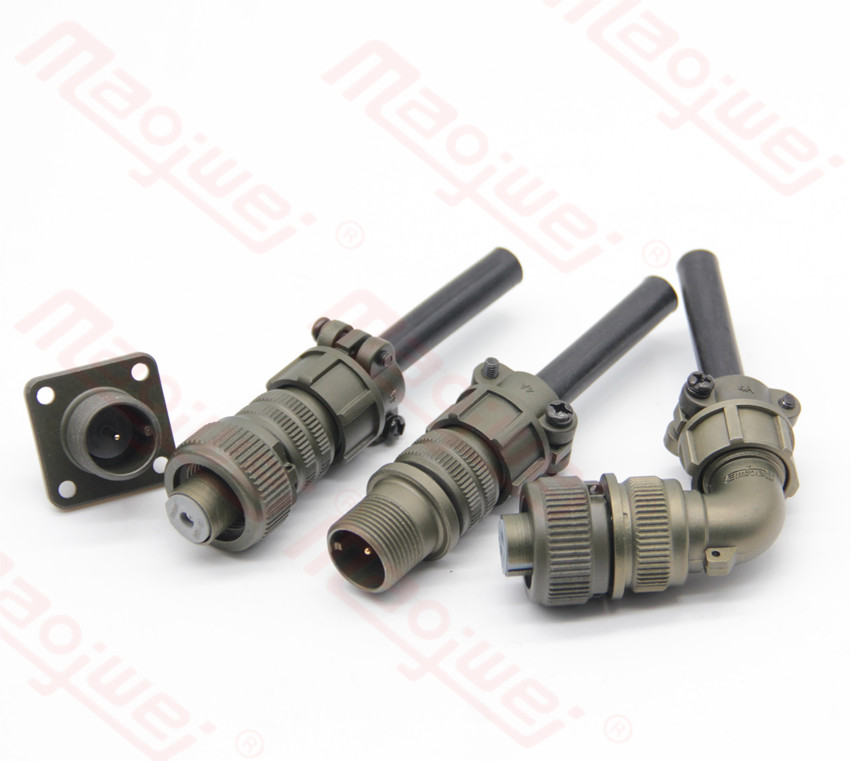 Parameter:
Material and Technical Parameter:
| | | | |
| --- | --- | --- | --- |
| Standard | Mil-C-5015 / JGB600 | Coupling | thread coupling |
| Shell Material | High Strength Aluminum Alloy | Shell Finish | Zinc plated, army green/silver/black |
| Pin number | 2,3,4,5,6,7,8,10,12pins | Pin arrangement Code | See below form |
| Contacts material | Copper Alloy; gold plated | Termination | solder / crimp |
| Gender | S female; P male | Solder cup diameter | 1.2;1.7;2.5mm |
| Insulator Material | Synthetic Rubber | Insulator flame retardant grade | UL94-V0 220℃ |
| Rate Voltage | 500V | Cable diameter range | 5---9mm |
| Rated Current | 10A;15A;30A;55A;80A;120A | IP grade | IP67 |
| Withstanding Voltage | 5000V/1min | Salt Spray Test | 60H EIA364.28 |
| Operation Temperature | -55℃--150℃ | Mating Cycle | 500 times |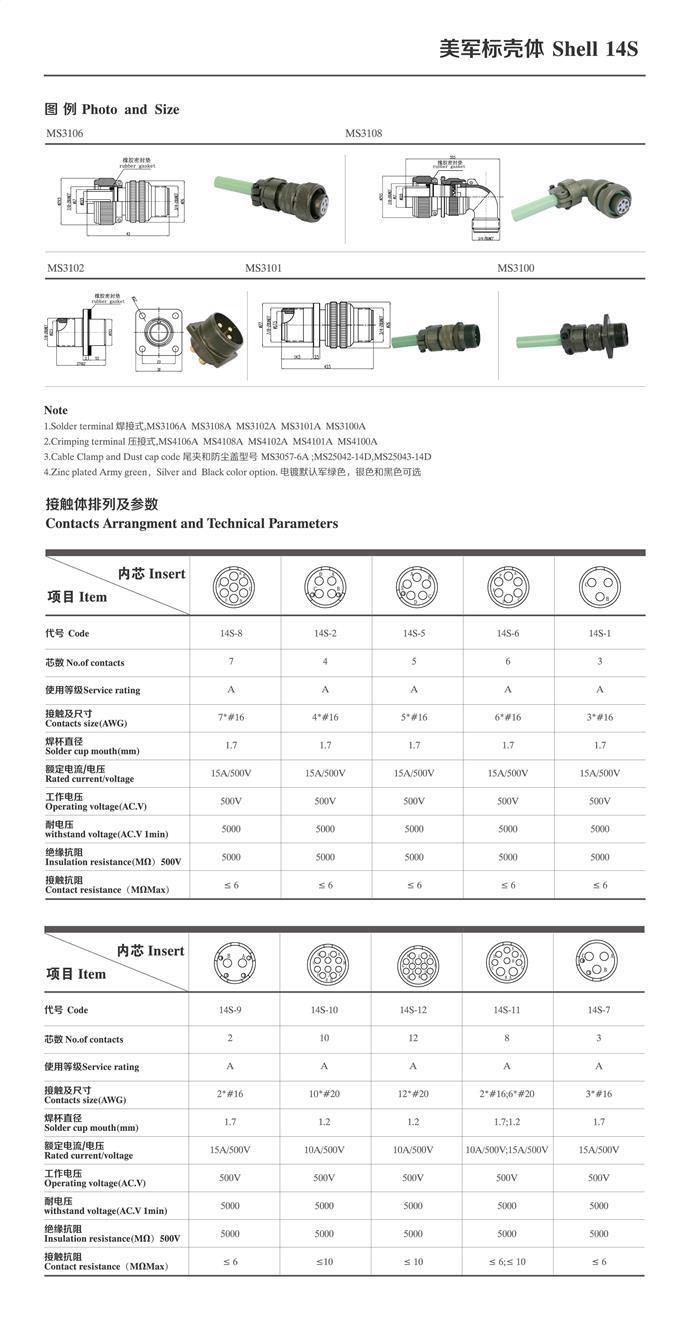 How To Choose Mil-C-5015 Connectors
Our company supply Mil-C-5015 series standard connector, the product fully meets the technical requirements of American military standard Mil-C-5015.Mil-C-5015 series electrical connectors is thread coupling, has been successfully mass used for domestic and foreign enterprises . Connector type: 3100- wall mounted socket; 3101- extension socket, 3102-square socket, 3106- straight plug. 3108-90 degree angled plug .Pin contact of diameter:φ1.6 φ2.4 φ3.6 φ5.7 φ9.2. Wire specifications: φ1.7-3.3 φ2.9-4.3 φ4.2-6.4 φ7.0-9.4 φ10.6-14.0 . Shell code: 8,10,12,14,16,18,20,22,24,28,32,36,40,44,48. Contact: 1-10 , 12,16,17,19,24,26,28,32,37,46,52,54,56 . connection thread: 5/8,3/4,7/8,1-20unf-2b, 1-3/16,1-17/16,1-3/4-18unf-2b .
Material: shell Aluminum Alloy, army green, black passivation of zinc plating. The insulator: synthetic rubber. Contact :copper alloy, gold plated. Insulation resistance: more than 5000m in Europe, Environment temperature: -55---125 degrees, Mechanical life: 500 times.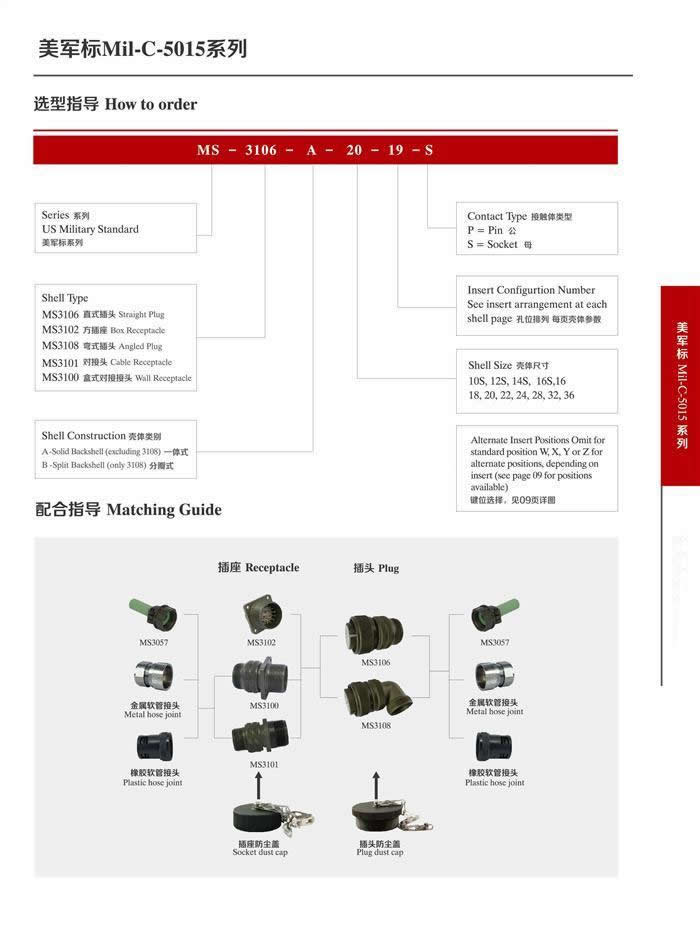 * * *More U.S. Mil-C-5015 Standard models and pins arrangement are in the R & D, please call or E-mail to ask.
Contact: