Detailed description
This cover is mental materials , for MIL-C-5015 series plug .
Items as bellow :

MS25043-10D, MS25043-12SD,MS25043-14SD, MS25043-16SD, MS25043-18SD,MS25043-20D,MS25043-22D,MS25043-24D,MS25043-28D,MS25043-32D,MS25043-36D,
How To Choose Mil-C-5015 Connectors
Our company supply Mil-C-5015 series standard connector, the product fully meets the technical requirements of American military standard Mil-C-5015.Mil-C-5015 series electrical connectors is thread coupling, has been successfully mass used for domestic and foreign enterprises . Connector type: 3100- wall mounted socket; 3101- extension socket, 3102-square socket, 3106- straight plug. 3108-90 degree angled plug .Pin contact of diameter:φ1.6 φ2.4 φ3.6 φ5.7 φ9.2. Wire specifications: φ1.7-3.3 φ2.9-4.3 φ4.2-6.4 φ7.0-9.4 φ10.6-14.0 . Shell code: 8,10,12,14,16,18,20,22,24,28,32,36,40,44,48. Contact: 1-10 , 12,16,17,19,24,26,28,32,37,46,52,54,56 . connection thread: 5/8,3/4,7/8,1-20unf-2b, 1-3/16,1-17/16,1-3/4-18unf-2b .
Material: shell Aluminum Alloy, army green, black passivation of zinc plating. The insulator: synthetic rubber. Contact :copper alloy, gold plated. Insulation resistance: more than 5000m in Europe, Environment temperature: -55---125 degrees, Mechanical life: 500 times.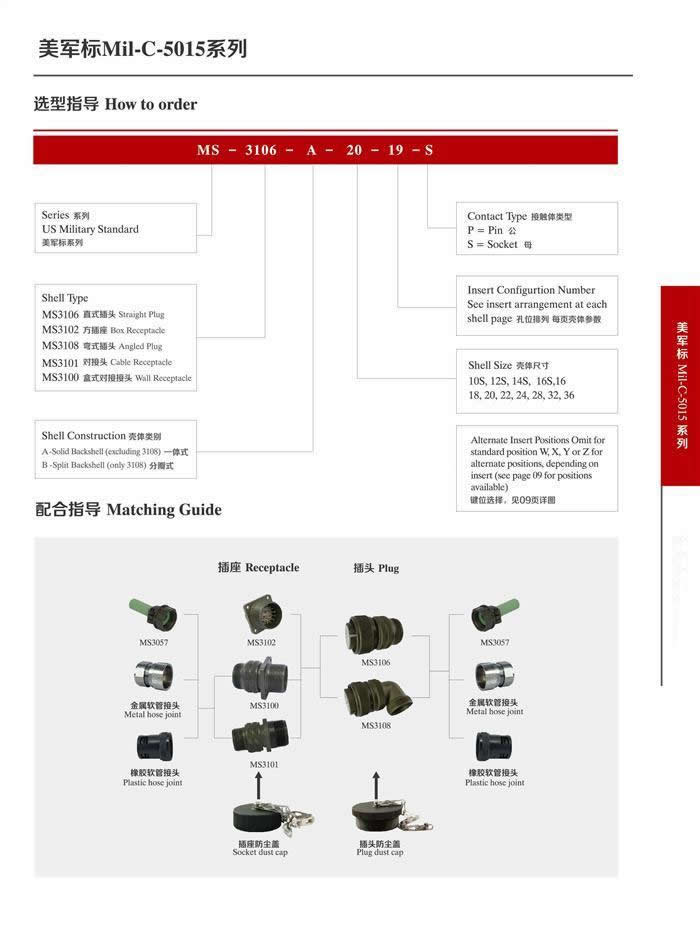 * * *More U.S. Mil-C-5015 Standard models and pins arrangement are in the R & D, please call or E-mail to ask.
Contact: